Course details
3rd anniversary ceremony 【All-you-can-drink all-you-can-eat! 120 minutes】 with all you can eat + buffet, with all you can drink !!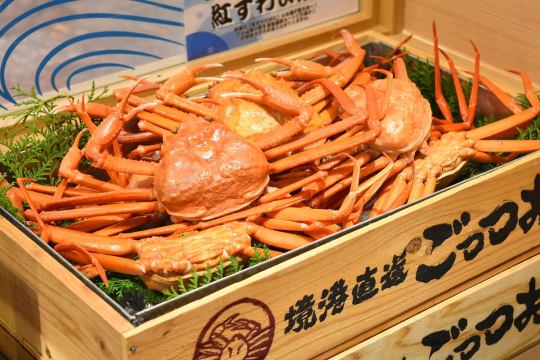 5500 yen
Display is tax-included price.
All-you-can-drink available

Alcohol in Izumo, including drinking beer and draft beer as well as more than 25 kinds of alcohol all you can drink with self-service! Compare various kinds of alcohol in various small varieties, make your favorite sake with your favorite recipe!
Reservation deadline

Until 20 o'clock on the desired shopping day
Available days for reservation

Monday - Sunday - Public holidays - Holidays
All you can eat and buffet all you can drink! Normally 6000 yen to 5500 yen! Also 30 minutes extended free to 120 minutes !! The sake also included "Izumo no Chi" You can also enjoy kara sake! Absolutely not to be missed, this is the recommended course of our pushing.Please make your reservation as soon as possible.
Course menu
【Viking food content】
If you want to eat crab perfectly ♪ With this plan!
● Crimson crayfish ● crab rice ● crab chaotropic salad ● salad
● Shinji Lake Shijimi Ju ● Chicken raised ● Izumo soba ● Other
---------------------------
All-you-can-drink menu
·beer
· Asahi Super Dry Life · 【Non-Alcohol Beer】 Asahi Dry Zero
· Izumo no Sake
· · · · · · · · · · · · · · · · · · · · · · · · · · · · · · · · · · · · · · · · · · · · · · · · · · · · · · · · · ___ ___ 0
· Shochu of Izumo
· Pot fudge · Soba-bukkusa · Mugi Anpotan
·Cocktail
· Cassis Orange · Cassis Soda · Cassis Oolong · Peach Orange · Peach Soda · Peach Oolong · Campari Orange · Campari Soda
·wine
· Glass wine (red · white)
·whisky
· Black Nikka Clear (Rock · Straight · Water · Soda)
·Soft drink
· Coca · Cola · Ginger Ale · Melon Soda · Orange Juice · Oolong Tea · Tea · Hot Coffee · Ice Coffee
2018/10/28 update